Sudoku
We understand the value of top-quality Sudoku puzzles in newspaper or magazines will improve circulation figures. Add a range of beginner to challenging Sudoku puzzles that people find enjoyable to play and your publication will gain a whole new captive audience.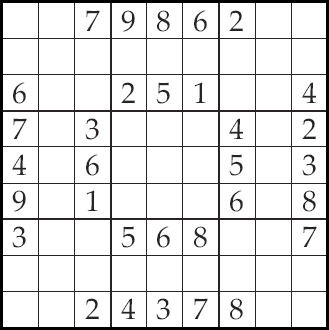 Our service
Available for your publication are News International's Sudoku. From a broad portfolio of puzzles – the classic Sudoku, Samurai, Killer, Godoku and Interactive – NI Syndication can deliver the highest quality in the format you need and at the right price.
Sudoku – the original brain teaser. These can be used to introduce your readers to the phenomenon or to replace your existing supply with our challenging style
Samurai Sudoku – to really ramp up the difficulty. Samurai sudoku is a great way to keep your reader on the page
Killer Sudoku – for veterans of Sudoku and Samurai who want to be really challenged
Interactive Sudoku – have an interactive version of the game on your website (see example)
Thinking of switching away from your existing provider? If you have a particular style of Sudoku, we can adapt our generators to meet your own requirements of difficulty bands, symmetry and much more.
Quality
We pride ourselves on providing some of the highest quality puzzles available. From the difficulty gradient to the solving process, all Sudoku are solvable through logic only and always exclusively produced – no two Sudoku are ever the same. In short, our Sudoku offer a more satisfying and challenging puzzle.
Our Sudoku generators are the most highly-developed and advanced in the world. We deliver high-quality, accurate Sudoku ahead of your deadline, available online to retrieve whenever you need it. If you want amazing Sudoku like no other; talk with us now about your syndication requirements
Reliable
You can count on us to produce your exclusive puzzles within your timescale. When you are ready, download your puzzles on demand from our secure website. To ensure everything runs smoothly, we always provide puzzles ready to place directly into the publication – no further editing required.
Get in touch
You can download a copy of our Sudoku leaflet and a comprehensive e-book of the Sudoku puzzles we can produce (password: nis). Contact us now at or telephone us on: +44 (0)20 7711 7831 or: +44 (0)87 0977 0077.